It was announced today that Adidas had won the NHL contract for all jerseys starting in 2017-18. It seems weird making that announcement because Reebok is owned by Adidas, and Reebok has the current NHL contract. However, there were others that wanted the NHL deal including both Under Armour and Bauer, so Adidas had to ante up to keep the contract under their umbrella. Where things could get murky is the cost of jerseys for you and I as fans since the deal reportedly will reportedly pay the NHL some $70 million per season!
I suspect that Adidas will keep the jersey designs much the same unless a team wants to make changes. The branding will obviously change from Reebok to Adidas on the back neckline, but there's still a lot of money to be recouped in this deal. While Adidas will make some of the money back in jersey sales to fans, there's one way they can make a lot of money in a short period of time: advertising on jerseys.
The NHL has already said that
jerseys for the World Cup of Hockey will feature advertising
and it appears that Adidas will be making those jerseys, so it is most likely a
prelude to the inevitable
. The NHL is always looking for additional revenue sources, and jersey advertising is the last great expanse that has been kept free of logos outside of the NHL's logo, the team's logo, and the manufacturer's logo. I have an idea that the logos will be kept small enough to look tasteful much like the AHL does. I'm not 100% against the way that the AHL does it, but I also don't want to see anything bigger.
According to
TSN's Rick Westhead
, "During a meeting of NHL team presidents in New York last year, league officials estimated they might raise $4 million per team – or $120 million annually – by allowing corporate sponsors to put their logos front and centre on jerseys." Now you might be saying that $4 million isn't a lot of money when looking at the big picture, but that money pays for one player per team. That's an investment that a number of team owners would appreciate since it means less of their money being spent. Call the advertising "pennies from heaven".
If you're a soccer fan - football or futbol - you're aware that the three stripes run along a player's shoulders as a way for Adidas to advertise their own brand. Would we see three stripes being added to NHL jerseys? This, to me, seems superfluous and unnecessary, but nothing can be ruled out at this point. However, the patches on the sleeves would serve as a termination point for the stripes if they were to be added. Again, I'm not saying they will be nor should they be added, but a vast number of teams use patches on the shoulders which Adidas could easily turn into something they can use for their own advertising purposes.
Here's what I do know for certain.
The NHL is now getting some $70 million per season for the length of this yet-unannounced contract. They have the possibility of selling advertising for another $120 million per season. That's more than $6 million per team per season simply through this jersey deal. While no designs have been announced, the NCAA seen
some schools go with Adidas
, and the results
haven't been bad at all
. Basically, let the teams decide the style and look and let Adidas brand the jerseys. No complaints there whatsoever. As for advertisements, decisions are being made but the NHL would be wise to keep them
small and somewhat inconspicuous
like the AHL does.
The moment the NHL starts to look like this...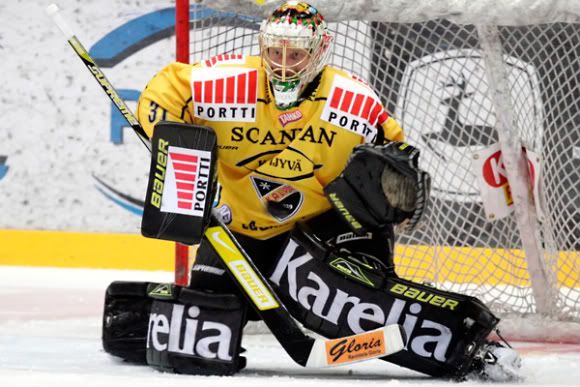 ... it might be time to start asking how much money the NHL is making off these ads.
Until next time, keep your sticks on the ice!