The Hockey Show
welcomes back a good friend of the show in MJHL linesman Jeremie Gauvin tonight as we'll be taking calls and tweets regarding officiating in the NHL Playoffs and the World Hockey Championships! Jeremie is a Hockey Canada-certified official, so he should be able to answer any questions on anything called (or not called) in the NHL Playoffs or the IIHF World Championships.
We'll also have a
Survivor: NHL Playoffs
update as the first member of the tribe is sent home. Linda's Vancouver Canucks were ousted by Laura's San Jose Sharks, so she will provide us with her thoughts in a pre-recorded interview on why the Canucks failed so miserably in this year's playoffs. Beans, Jeremie, and myself will also chime in with our thoughts on why the Canucks fared so poorly as we pick the meat off the Canucks' carcass before burying them for this season.
UPDATE: NO INTERVIEW TONIGHT. COMING NEXT WEEK!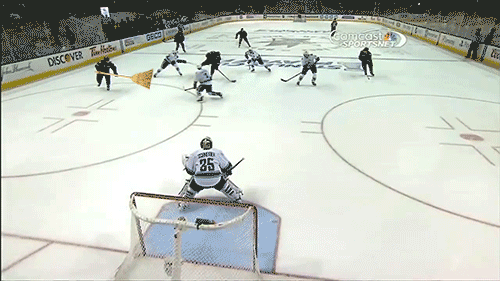 Created by "JamesGotALeg" on the Fear The Fin blog
Finally, we'll run down the other series, try to figure out why Marc-Andre Fleury plays net like he's never been on skates before, and talk about Canada's chances at the World Championships as we move through our thirty minutes at a brisk pace tonight.
Join us on 101.5 UMFM at 6PM
for all the hockey chatter, and call us if you feel up to it as (204) 269-UMFM (8636) or
tweet me at @TeebzHBIC
with your questions and comments!
Until next time, keep your sticks on the ice!